PREAMPLIFIER/POWER AMPLIFIER
Benchmark Media DAC2 HGC/AHB2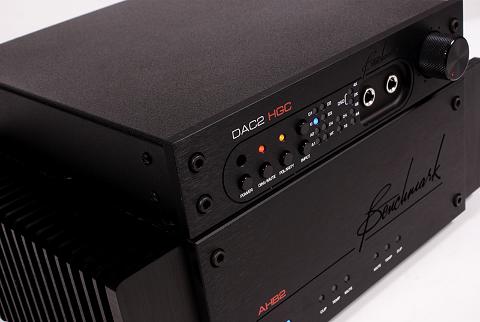 Benchmark Media DAC2 HGC
Specifications (according to published data)
Description:
USB DAC/Preamplifier, Headphone amplifier.
Digital inputs:
2x coaxial (RCA, 24bit/192kHz), 2x optical (Toslink, 24bit/96kHz), 1x USB (asynchronous, 24bit/192kHz).
Analog inputs:
2x single ended (RCA).
Digital Output:
1x coaxial (if selected).
Analog outputs:
2x Headphone (TRS jack, 0.25 inch, 30-600 Ohm), 1x single ended (RCA), 1x balanced (XLR).
Other features:
Compatibility with DoP V1.1 (for DSD signals), phase selection, remote control, home theater bypass).
Dimensions:
249x45x237 (mm, WxHxD).
Weight:
1.4kg.
Benchmark Media AHB2
Specifications (according to published data)
Description:
Power Amplifier.
Power:
2x100W /8 Ohm, 2x190W/4 Ohm, 1x380W/8 Ohm, 1x480W/6 Ohm (1kHz, <0.0003% THD+N).
Dynamic range:
132dBA.
THD+N:
<0.00013% (1kHz, 80kHz LPF).
THD:
<0.00011% (1kHz, 20kHz LPF).
Channel crosstalk:
<115dB (1kHz).
Frequency response:
20Hz-20kHz (-0.01/-0.17dB, 8 Ohm).
Inputs:
1x Balanced (XLR).
Outputs:
1x binding posts, 2x Speakon NL4 (Left/Left+Right), 1x Speakon NL4 (Mono).
Other options:
Sensitivity selector, could be bridged.
Dimensions:
280x100x270 (mm, WxHxD).
Weight:
5.5kg.
Benchmark Media DAC2 HGC/AHB2
Price & General Information
Price (DAC2 HGC, €)
2.800,- (*)
Price (AHB2, €)
4.450,- (*)
Sample source
Location Sound, tel.: 0030-210-364.6154
Sample source URL
http://www.locationhiend.com/
More Information
http://www.benchmarkmedia.com/
(*) Please note that this price is for the local market where our review sample source provide their services. For a price specific to your location, consult your local dealer.
Previous | Back to Intro | More Reviews
---