FLOORSTANDING LOUDSPEAKER
ATC SCM40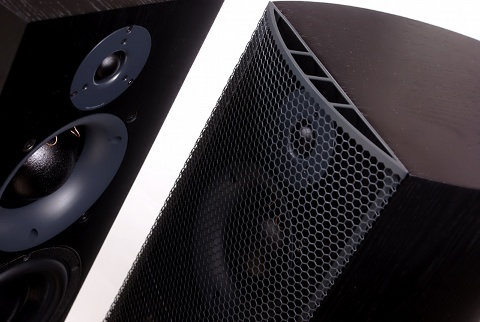 Two things are expected to attract the attention of anyone who comes into contact for the first time, with the new SCM40. The curved side panels which give a distinctive look to the loudspeaker while ensuring higher rigidity and, being non-parallel, reduce the standing waves inside the enclosure and the somewhat peculiar metal mesh used to protect the drivers. This lightweight metal construction with the large honeycomb-like openings attaches magnetically to the front baffle and as we will see, it is, perhaps, the best construction we have come across in terms of non-measurable effect on sound. Its aesthetics is, in my opinion, somewhat questionable but this is, obviously, quite subjective.
The SCM40 is a three-way design, featuring an 164 mm SC series woofer with a long travel suspension (typical for ATC), a 75 mm soft dome midrange driver and the brand new SH25-76 1-inch tweeter, developed and manufactured by the company. According to the published details, the SH25-76 is a design that uses several elements from other ATC drivers, especially the double suspension of the mid drivers and the SC (Short Coil) technology of the woofers. According to the company, the double suspension ensures greater rigidity to the overall structure therefore better mechanical performance and precision in movement which frees the tweeter from the need to use magnetic fluid in the gap. This fluid tends to dry over and changes its behavior. Also, the use of a "short" voice coil (i.e. a coil with a winding smaller in its width and a greater in its height) which does not come off the magnetic field, ensures very good linearity and thus low distortion. For the tweeter dome itself, the company does not give many details beyond that it is optimized for maximum power transfer from the voice coil and for smooth off-axis response. The magnetic system uses neodymium, while the metal waveguide located around the dome is designed to optimize the response (on and off-axis).
The three drivers are connected to a passive filter with crossover frequencies at 380Hz and 3.5kHz. ATC uses high quality components here, like polypropylene capacitors, air-core coils and wirewound resistors with ceramic cores for better heat dissipation. The SCM 40 is a closed-box type loudspeaker and uses four classic adjustable spikes for positioning. The user has to install by himself a piece of the base (which supports the front spikes), something that is easily done with two Allen-type screws and then level off the loudspeaker as usual. The terminals for connecting the loudspeaker to the amplifier seems to be of fair quality, accept cables with all the usual termination methods and support both bi- and tri-wiring.
---