Victrola unveiled the Stream Onyx, expanding their Sonos-certified turntable lineup.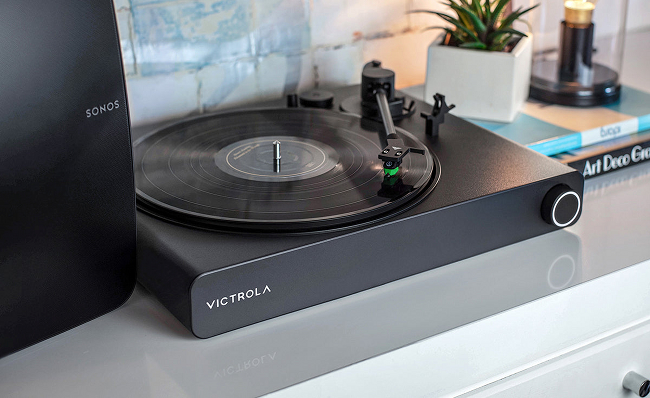 Source: Press Release, Last Accessed: 2023/01/05
Victrola unveiled the Stream Onyx, the second iteration in their award-winning Victrola Stream turntable lineup, verified as a Works with Sonos product, to deliver bold, vibrant sound in a sleek aesthetic reminiscent of its name.
With a revamp in build materials from the original Victrola Stream Carbon, the company is now introducing a second, more widely available wireless vinyl listening solution that allows users to enjoy their favorite records through their entire Sonos system, with no additional equipment required. This new turntable will be available starting late February 2023.
The Victrola Stream app (iOS and Android) provides quick setup and connects the two-speed, belt-driven turntable wirelessly to a Sonos system in seconds. Once setup is complete, Victrola Stream Onyx fully integrates with the Sonos app for simple control, and the built-in illuminated control knob provides a tactile, centralized volume control for an entire Sonos system and selected playback groups.
Victrola Stream Onyx's build materials differ from Victrola Stream Carbon while still providing a premium look, feel, and experience, the company says. This includes an aluminum tonearm with a custom-designed removable headshell that is fitted with a premium cartridge. The turntable's easily adjustable counterweight ensures even vinyl novices apply the correct down-force, while traditional stereo speakers can also be used in concert with a Sonos sound system via RCA outputs.
For more information: https://victrola.com/
---