Ubsound launched their new handcrafted "Feel" loudspeaker series, designed in Milan and made in Italy.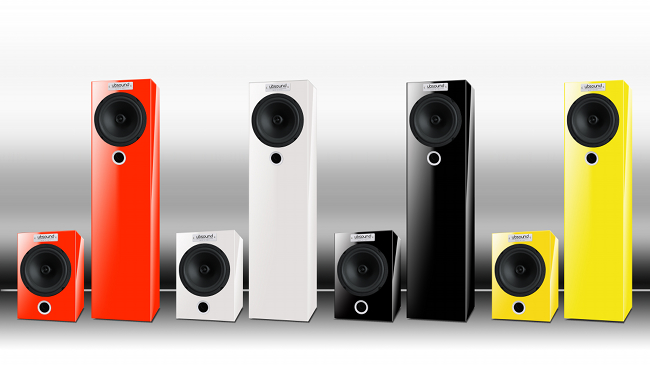 Source: Press Release, Last Accessed: 2020/04/30
On the occasion of the company's ninth birthday the Italian Ubsound launched the Feel Series of premium handmade passive loudspeakers with two models available, the FL32 bookshelf or standmount model (USD 2,000 per pair) and the FL38 floorstanding model (USD 2,500 per pair) in four vibrant colors to choose from, designed and handcrafted in Italy.
The color variations are Elegant Black, Brilliant White, Sport Red and Fashion Yellow. The cabinets are finished with a special multi-layer, ultra-resistant and scratch-resistant shining paint which is manually applied with care and the deep Italian experience. During all production phases the loudspeakers are carefully checked and tested one by one. Every single product is numbered and, due to its "hand-made" manufacturing, is -in fact- unique.
In the Feel series, Ubsound has implemented the HDNSS (High Definition Natural Sound Signature) audio technology, to which their flagship series (Velvet Series) owes its success. "The physical approach in the study of the dynamics of resonances has allowed to better design and develop this technology" the company says. According to the press release, "Ubsound loudspeakers deliver with remarkable fidelity an impressive amount of acoustic detail, with a perfect soundstage during playback. Their natural and slightly warm acoustic signature is due to the exclusive implementation of the 45° curved asymmetric front bass reflex that plays a fundamental role in the homogeneity of the propagation of low frequencies below 200Hz". "The perfect sound obviously does not exist, but with this exclusive technology Ubsound has been able to create a pure, natural and balanced sound", Marzio Gasparro – CEO at Ubsound Group – stated.
Both models are two-way, bass reflex designs with a 210mm coaxial driver. Frequency response is 32Hz-22.6kHz for the FL32 and 31Hz-22.6kHz for the FL38 (±3dB), sensitivity is 89dB/1m (2.83V) and the impedance is 8 Ohm.
The Feel Series loudspeakers are already available for purchase from the official manufacturer website with free shipping worldwide directly from the Italian factory to your home and covered by 3 year official warranty by Ubsound. The Feel Series loudspeakers may be also available for purchase in the future in some of the finest and prestigious Hi-Fi stores around the world.
For more information: https://www.ubsound.com/
---