Top Stories

In our first contact with a new manufacturer from Greece, we've had the opportunity to review a power amplifier that stands out, not only with its build quality but with its architecture and ideas behind it. In the field of high-performance audio, there is nothing more attractive than some out-of-the-box ideas!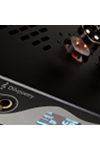 Typically, buying a device with a limited budget entails some serious compromising in various fields. With the Dilvpoetry series, Aoshida -one of the largest international audio dealers- attempts to prove that this thinking is, simply, not correct. Is it possible to have a DAC/Headphone Amplifier, with both solid-state and tube output stages, both single-ended and balanced headphone outputs, and Bluetooth aptX HD streaming for a price of just over $200,-? DT-1 proves that indeed it is!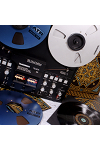 Comparatively listening to the Naxatras III audiophile vinyl cut and the tape directly transferred from the master, as edited by engineer Jesus Agnew and Magnetic Fidelity, leads to the appreciation of the analog sound values, when the process is, indeed, impeccable. But, at the same time, the prerequisites are far from simple, both in the recording/transfer and the playback chain. For us, this was a research project that, probably, took too long but it was worth every minute spent!
---
News & Industry Update

Celebrating 60 years of innovation in technology, performance and design, LS60 Wireless is KEF's vision of high-fidelity for the future. The new loudspeaker is as powerful as it is attractive and its slim design makes room placement adaptable for everyone, the company says.

The P30A preamplifier and the H30A power amplifier replace the P30 and H30 reference amplifiers that have been on the market since 2011, setting a new bar for what Hegel amplifiers can achieve.

Musical Fidelity's MX-Stream is a universal, transport-only, network device that can take any online or network streaming service to your integrated amplifier or DAC. All you need is an existing USB Class 2.0 Audio input.

Touraj Moghaddam, founder and chief executive of Vertere, recently announced that the multi-award-winning PHONO-1 MKII, MM/MC Phono Preamplifier has been improved. The new version, MKII L, features improved performance, a new gold-plated L-shaped PCB and significantly enhanced accessibility for the customization DIP switches.

ATC announced the availability of two new high-performance 12-inch/300mm active subwoofers, the SCS70 Pro and SCS70iW Pro, designed to deliver the exceptional levels of performance demanded by audio and music professionals and intended to partnering with ATC's range of renowned active studio monitors.

The new Clearaudio Professional Power 24V is a standalone DC power supply that is designed to elevate the performance of turntables from the brand's leading Innovation Series. In addition, it also supports the award-winning Clearaudio Ovation turntable.

Connected-Fidelity's Float range is the result of extensive investigation into the how and why of isolating audio and AV components to achieve high level performance without inadvertently altering the natural sound quality.

Last year, iFi introduced the GO blu, first in a new line of ultra-portable, pocket size DAC/amps called the GO Series; now it's joined by the GO bar, taking the "big sound in a small package" concept to a whole new level, the company says.
---
Equipment Reviews...

It is true that we expected a review sample of the melto2 phono preamplifier rather impatiently but we had good reasons to do so. LAB12 has proven to master the art of the well-balanced design, one where technical excellence is in line with true flexibility. Here are our impressions …

SCM19, ATC's entry level "Hi-Fi" series top stand-mount model, proved to be one of the best compact loudspeakers you can buy in this price range, especially if what you are looking for is some real high fidelity behavior. How did they manage this? Read the review to find out…